Grand Crosses are always fascinating. Not just due to their enormous size, but also for the craftsmanship. Yet they are normally not to rare since everybody with a title and being up in the royal hierarchy was almost entitled to get one. We do know most of the number of awards for several German imperial Grand crosses and will find out pretty fast that the total number always goes into the thousands.

Some exceptions apply when applications are awarded to or with a grand cross. Take the Philips Order for example. I did not dare to count all grand crosses ever being awarded, but found out rather quickly while looking through the Hessian orders list from 1914 that there were only 18 Grand Crosses with Crown awarded up that date:
Date
Name
Title

Civilians - Hessians

27-Feb-1901
Gnauth, Teodor, Dr. jur. Und Dr.=Ing.
Minister der Finanzen a.D. in Mühlheim a. Rh.

Civilians - non-Hessians

24-May-1888
Radolin, H. Fürst von, Kgl. Preuß. Wirkl. Geheimrat und Oberst=Truchseß, Kais. Deutscher Botschafter a.D.
 
24-May-1888
Eulenberg, Aug. Graf zu
Kgl. Preuß. Oberhof= und Hausmarschall, Oberzeremonienmeister, General á. l. s. der Armee
26-Jan-1893
Wedel, Wilh. v.
Kgl. Preuß. Staatsminister und ehmal. Minister des Kgl. Hauses
6-Oct-1909
Soden, Julius Frhr. v.
Kabinettschef Sr. Maj. des Königs von Württemberg, Staatsminister a.D.
1-May-1912
Breitenbach, Paul von
Kgl. Preuß. Staatsminister und Minister der öffentl. Arbeiten in Berlin
13-May-1913
Moy, Karl Graf v.
Kgl. Bayer. Gesandter und bevollmächtigter Minister am Großh. Hofe

Military Personnel

2-Jul-1894
Treitschke, Leo v.
Kgl. Sächs. General der Inf., Generaladjutant
21-Sep-1899
Lindequist, Oskar v.
Kgl. Preuß. Generaloberst, Generaladjutant Sr. Maj. Des Kaisers und Königs
18-Sep-1903
Tirpitz, Alfred v.
Admiral, Staatssekretär des Reichsmarineamts, Kgl. Preuß. Staatsminister
8-Sep-1905
Einem, gen. v. Rothmaler, Carl v.
General der Kav., kommandierender General des VII. Armeekorps
8-Sep-1905
Eichhorn, Hermann v.
Generaloberst, Generalinspekteur der 7. Armee=Inspektion in Saarbrücken
25-Aug-1906
Scholl, Friedr. v.
Kgl. Preuß. Generaloberst, Generaladjutant Sr. Maj. Des Kaisers und Königs, Kommandeur der Leibgendarmarie, Generalkapitän der Schloß= und Leibgarde
20-Aug-1907
Voigt, Ernst v.
General der Inf. z.D.
17-Sep-1909
Hoiningen, gen. Huene, Ernst Frhr. v.
Kgl. Preuß. General der Inf. und kommandierender General des XIV. Armeekorps
19-Mar-1910
Goßler, Konrad v.
Kgl. Preuß. General der Inf. a.D.
23-Aug-1911
Heeringen, Josias von
Kgl. Preuß. General der Inf., General=Inspekteur der II.Armee=Inspektion
15-Sep-1912
Schlieffen, Graf von Limbrecht
General der Kav.
This also means that there may have been a total of only 20 to 25 awarded. Yet to make matters even worse one could be awarded the crown to the Grand Cross in the event the person did already hold this award or one would receive the Grand Cross with Crown.
One might wonder what the difference might be, but we need to remember the scroogyness of the Hessians. Why would they remake a whole cross for the event the crown would be added to the Grand Cross. As a matter of fact a crown was crafted separately and then added to the cross as shown next. Indeed only a minimal labor expense.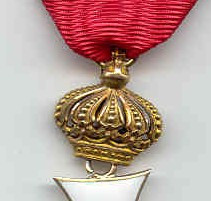 For those receiving the package deal and especially those early awards a Grand Cross with crown was made as shown in following picture: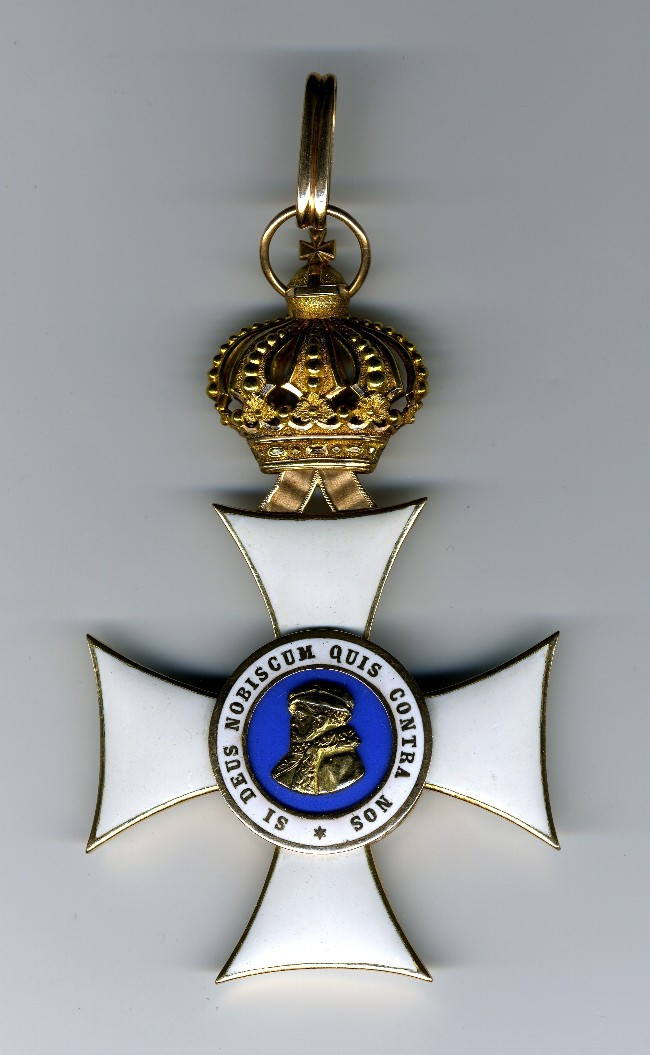 the next picture shows the details of this very fine high quality mounting: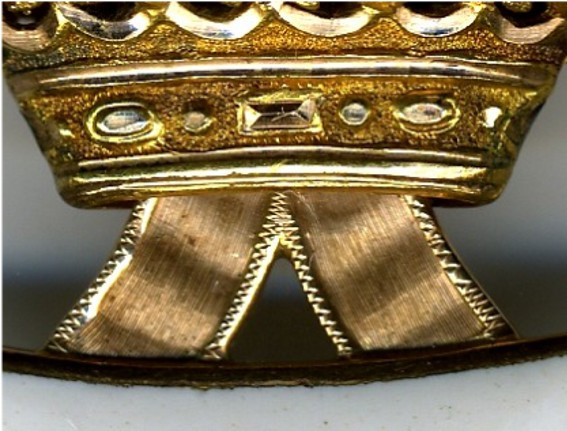 Similar on a commander cross: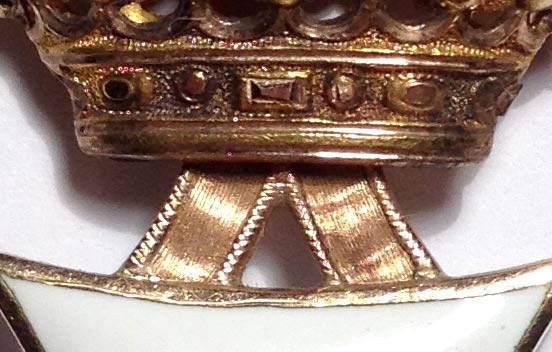 To emphasize on the difference to the mounting of the knight crosses with crown, here the high resolution picture: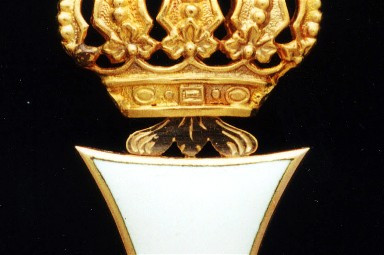 © A. Schulze Ising, III/06