(Published in Orden Militaria Magazin No.60 of the German Order Collector Society; BDOS e.V.)
Prinz Albert of Sachsen-Coburg-Gotha was looking for a wife in late 1836. Because of the help of the Prinz Leopold von Sachsen-Coburg-Saalfeld, his way lead him to crown princess Victoria of England. Unfortunately Victoria kept distance between herself and her poor cousin.
During his journey he awarded some people with different orders and medals. Captain Thomas Baldock was also awarded with such an order.
Looking him up in the "Adress-Handbuch des Herzogthums Sachsen Coburg und Gotha" for the year 1837, proofs the awarding to Th. Baldock. It is written there: "1836. Octbr. Königlich Großbritanischer Marine-Captain Baldock". This was in general the  27. awarding of a knight cross and the 14. awarding of a knights cross for a foreigner.
It wouldn't be something unusual. Normally an awarding to foreigners are more often then to citizens. There wasn't normally a difference between a decoration for foreigner then for citizen. The Princely-Saxon House Order of Ernestine for foreigner is exceptional. For foreigners was a special style made. The statutes from 1833 made a clear difference between both cases: "Die an Ausländer zu verleihenden Ordenskreuze haben keinen Eichenkranz um den blauen Ring. (Foreigners are getting decorations without the oak leaf surrounding the motto band)". The example shown is such a piece. The oak leaf wreath wasn't only missing so that the medallion would have been smaller then the normal medallions. A special medallion was extra made in case a piece was awarded to a foreigner.
 
for foreigner
 
for citizens
The discriminative style, from today's point of view, of this order was deleted in 1864 (unofficially round 1856).
The fact that Captain Baldock was very proud of his House Order, is proven by the miniature he bought. He hasn't worn it, as common in this time, on a barrette, but as a single piece on a golden needle. The miniature shows as the original knights cross the "E" (Ernst von Sachsen-Coburg-Gotha) and has the special medallion with the missing oak leaf wreath.  
.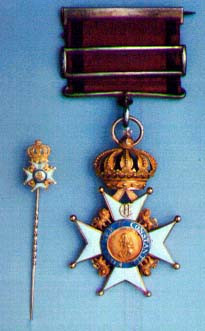 ---
 So it was written in Orden Militaria Magazin No.60. Yet a good friend of mine passed the following document on to me:
It clearly states that Captain Baldock was awarded the Ernestine House Order Knight Cross 1st Class for Foreigners on September 20, 1836. Well after the above written theory. The document also shows the actual reason for the award of this order decoration. He was awarded the decoration for of courage in preventing some danger from Prince Ferdinand.
© A. Schulze Ising, II/99
---
Since a few pieces of extreme rarity came up for auction it is prudent to update this section with some imagery:
Following is a first type for foreigners awarded from more then one of the three houses:
Obviously the letter on the upper cross arm is missing that would normally indicate the principality awarded the decoration. Awards granted by Prince Friedrich of Saxe-Altenburg would show an "F", those awarded by Prince Bernhard of Saxe-Meinigen a "B" and those made by Prince Ernst of Saxe-Coburg-Gotha an "E". Based on observations of market activities over the past decades it becomes evident that the Coburg Gotha pieces are the more common ones, while pieces with "F" or "B' almost never surface.
Next a recently auctioned knight cross awarded by the Meiningen house: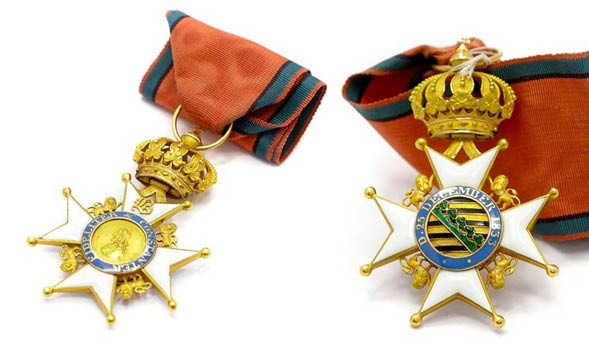 © A. Schulze Ising, VIII/11