25 years of army service isn't automatically accompanied with lots and lots of orders and medals, especially being in service in the early times. Talking about the early 19th century, there was only a limited number of orders and medals for decorating soldiers. 
The history of colonel Bernhard von Linsingen took place between 1800 and 1893. At least with the end of the 19th century the number of possible awards raised. He at least inherited a medal bar with three decorations, two orders and one medal. Additionally to this he was awarded another order.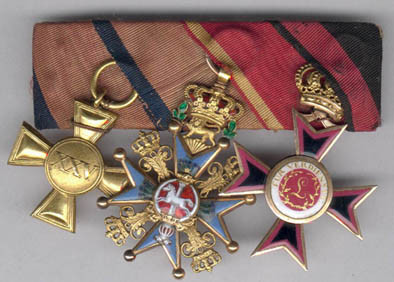 His on December 19, 1841, awarded knights cross of the Order of Ludwig was placed on the first position on his medal bar. A knight's cross first class of Brunswick House Order of Henry the Lion and the Hanoverian Wilhelm Cross, a long service decoration for officers, followed it.
The long service cross he must have gotten after 1860 since it is a bronze gilt piece (these crosses were made in real gold until 1860) 
As commander of the corps of cadets in Hanover he retired on June 17, 1866, and passed away on March 28, 1893, bearing a military rang as an retired colonel. For his retirement he possibly was awarded the commanders cross 2nd class of the Hanoverian Guelphic Order.